If I say
12 meter
what do people associate it with? They imagine it as a distance, but it is also a rating class for racing sailboats that are designed to the international rule. But since last week I also know that it can be a space where a mid-sized company's let's say "normally healthy business' story" can fit in 😉
Well, yes I finally managed to attend an EventStorming workshop. But this workshop wasn't just any
EventStorming workshop. This was
The
EventStorming Workshop
This was a Master Class for
EventStorming enthusiasts directly from the Master, the Inventor: Alberto Brandolini.
Even better this was the first
EventStorming Master Class in Italy that was held in English. Yeah actually otherwise it wouldn't have been too useful for me to attend,right?
And it is not just Alberto (sorry, Alberto) who makes the training awesome, but Enrico who always tries his best to arrange everything that participants need or might need in advance or even during the training days. So everyone can 100% focus on learning and maximizing the value they take out of the workshop.
After these 2 days of getting to know Alberto and Enrico better, I also had the feeling that Avanscoperta is a fantastic company, they are really cool. Therefore they don't need to apply different techniques/activities or ice breakers or other forced workshop elements to make you step out from your comfort zone.
With them you feel from the very first moment that you really want to take part and actively do things which is great!
I felt like Alberto really and honestly wants to share all of the best EventStorming tips and tricks with us. You can really feel the honesty which I think is a great motivator for all of us who want to learn more about this pattern.
Alberto really wants more and more Domain-driven Design enthusiasts to be involved, to spread the word and share this knowledge with others, so making as many solution designs better as possible.
And this is the whole point of it.
And there is also something that is - I think - very important: it wasn't like "ok, day 1 is over, training ended at 5:30 pm, everyone to go back to hotel/wherever they came from, and meet the next day". No. Instead it was arranging dinner together and having a fantastic time in the evening after the training day finished:
I think a lot of solution designers can include Alberto's name in prayers as many designs will get better by starting off with this style of health assessment for systems / business flows. We ambassadors really need to emphasize that it makes huge sense to do a workshop like this so that we can solve our biggest bottleneck in the business context or even in the entire organization.
By now, you must be wondering how an EventStorming session works in practice? Well, to get the ball rolling, you'll need to invite the right people (Business, IT, UX, or whatever other roles from each department of the business), provide an unlimited paper roll on which to start exploring the business / system which is the focus of the meeting, and one marker+one pack of orange sticky note per person (so that everyone can equally express themselves).
These orange post-its are the ones called Events or domain events. They are phrased as an outcome, in a passive voice, describing something which happened to the product/business at some point. For example, "ticket issued", "request sent", "request received", and so on.
By sticking these post-its on the wall, you'll find out that everyone knows what everyone else knows (
this type of workshop is called "Big Picture Exploration"
). In other words, people in the room have a common, shared understanding
about their work / the whole system as they made it explicit via these orange post-its.
You might find out that something doesn't go the way you thought it did, or that the same task is performed following different patterns by two people working in the same team... this is the power of EventStorming. Making the invisible visible. Everybody on the same page.
Towards the end of the exploration, then, people are usually asked to vote ("arrow vote") to what they believe are the two major problems of the company / business / system.
Again, this moment can be quite surprising: you might find out that the biggest problems of a company might not be the ones the boss thinks/knows about. Then other additional sessions can be held to help the team/s move on and solve those problems accordingly.
Many people at many companies think of these kind of sessions as a waste of time, and they feel that they know everything already, and they don't need this anyway. But after you've read the above I don't think it is necessary to explain how wrong they are 😉 And when you try EventStorming, you will see for yourself.
But we, ambassadors have a really important task to perform: showing the usefulness and value of Big Picture Exploration by - I think - doing it. Facilitating professional EventStormings by inviting only the right people only for the necessary amount of time and pinpointing 1 single thing that is a real pain for them will help open more and more eyes.
It is very good to see solution designs evolving whilst engineering people on an EventStorming workshop are trying to put together a picture that explains everything, especially when a lot of stickies are being thrown away and rewritten. And that is normal. More than normal, in fact: this is the way the best designs are born.
"The real result/effectiveness can be judged based on the amount of thrown away stickies lying on the ground. As the more you rewrite the better the solution will be."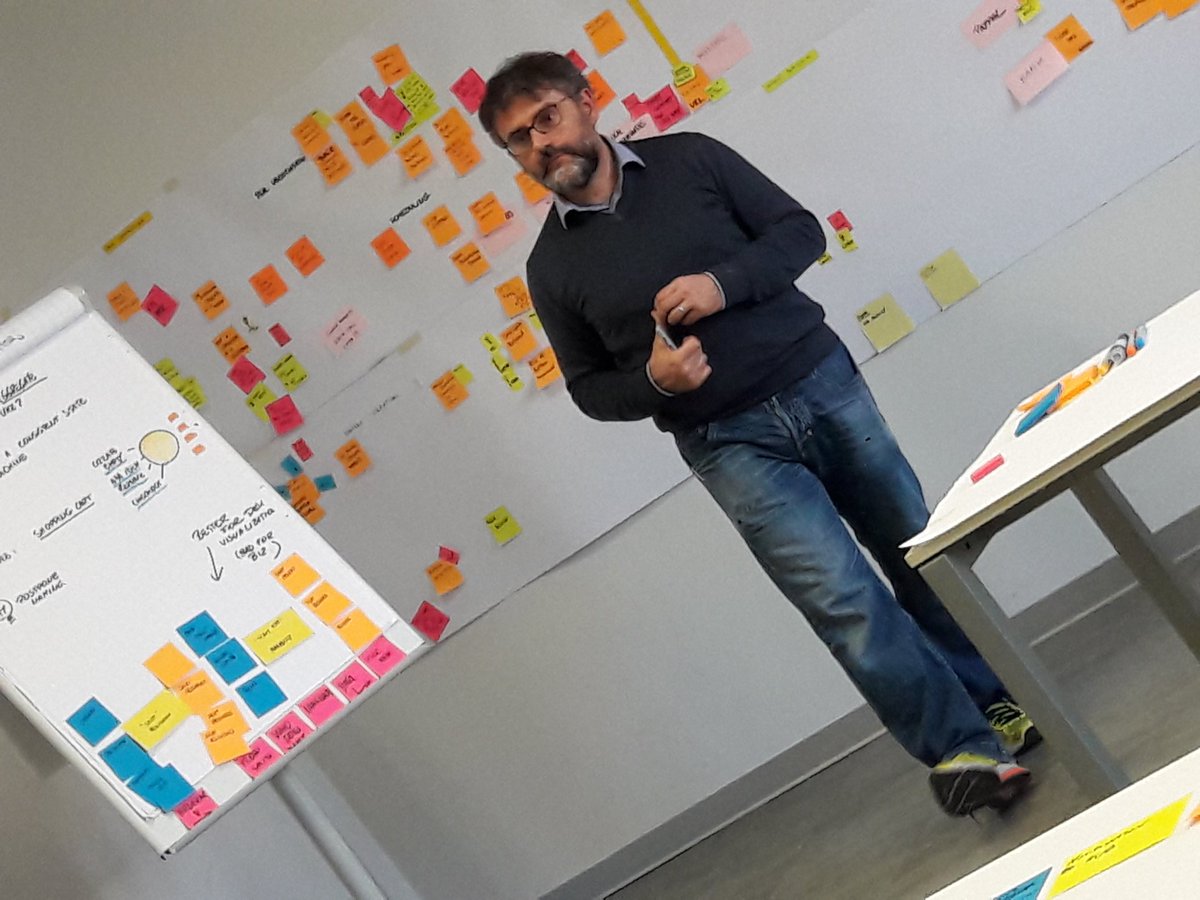 I got many new ideas during these 2 intensive days that I can use in my DDD Meetups, or just generally in my work. I honestly think that EventStorming is a great technique if people want to find out more about the context they are working in and find the bottleneck in there and make it better. The technique works with either an existing design or a future one.
I think it just starts with doing it: you should just grab an orange sticky, put it on the wall and start from there.
-- all you need is a wall, lot of stickies and energy... --